The Lower Platte North NRD is governed by a 19-member Board of Directors. Directors are elected at the general election to four-year terms, with half of the board members up for election every two years. Current board members are listed below.
The district is divided into nine subdistricts. Two directors are elected from each subdistrict, and one director is elected at large. Each director serves on one or more of the district's four committees: Water, Projects, Education-Operations-Rural Water, and Executive.
The board meets on the second Monday of each month. Generally, meetings are held at the LPNNRD office at 511 Commercial Park Road in Wahoo, although occasionally meetings are held at different sites around the district. To view the board meeting schedule for the current year, please visit the Meetings section of the homepage.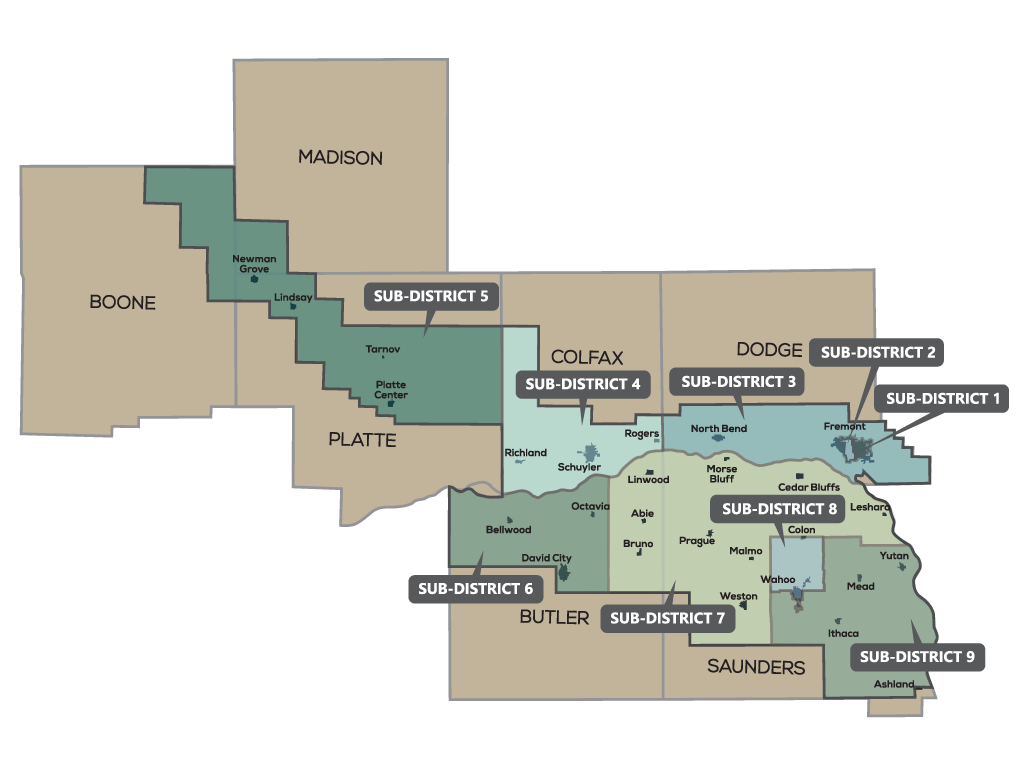 LOWER PLATTE NORTH NRD DIRECTORS
John Goldsberry
Subdistrict 2
Email
Fremont, NE 68025
Each board member is part of a committee that meet prior to the monthly board meeting. Committees are as follows:
Operations Committee: Jerry Johnson, Chair; Ryan Engel, Vice Chair; Alex Kavan; Dave Saalfeld; Mark Seier; John Goldsberry.
Water Committee: Robert Hilger, Chair; Duane Johnson, Vice Chair; Joe Birkel; David Lawrence; Thomas McKnight; Robert Meduna Jr.
Projects Committee: Lon Olson, Chair; Chris Yosten, Vice Chair; Matt Bailey; Ryan Sabatka; Bill Saeger; Andrew Tonnies.
Executive Committee: Kelly Thompson, Chairperson; Ryan Sabatka, Vice Chairperson; Robert Meduna Jr., Secretary; Mark Seier, Treasurer.