The Lower Platte North Team.
The Lower Platte North NRD employs 15 full-time personnel based at the district headquarters in Wahoo. The NRD also employs four clerks and one technician at Natural Resources Conservation Service offices in Butler, Colfax, Dodge, and Saunders counties. Part-time, seasonal employees are responsible for groundskeeping and maintenance at the Czechland, Homestead, and Lake Wanahoo recreation areas. Part-time employees or interns are often hired in the summer to assist with tree planting, water sampling, and other duties.
Job openings for the Lower Platte North NRD can be viewed in the Employment Opportunities section of the downloads page.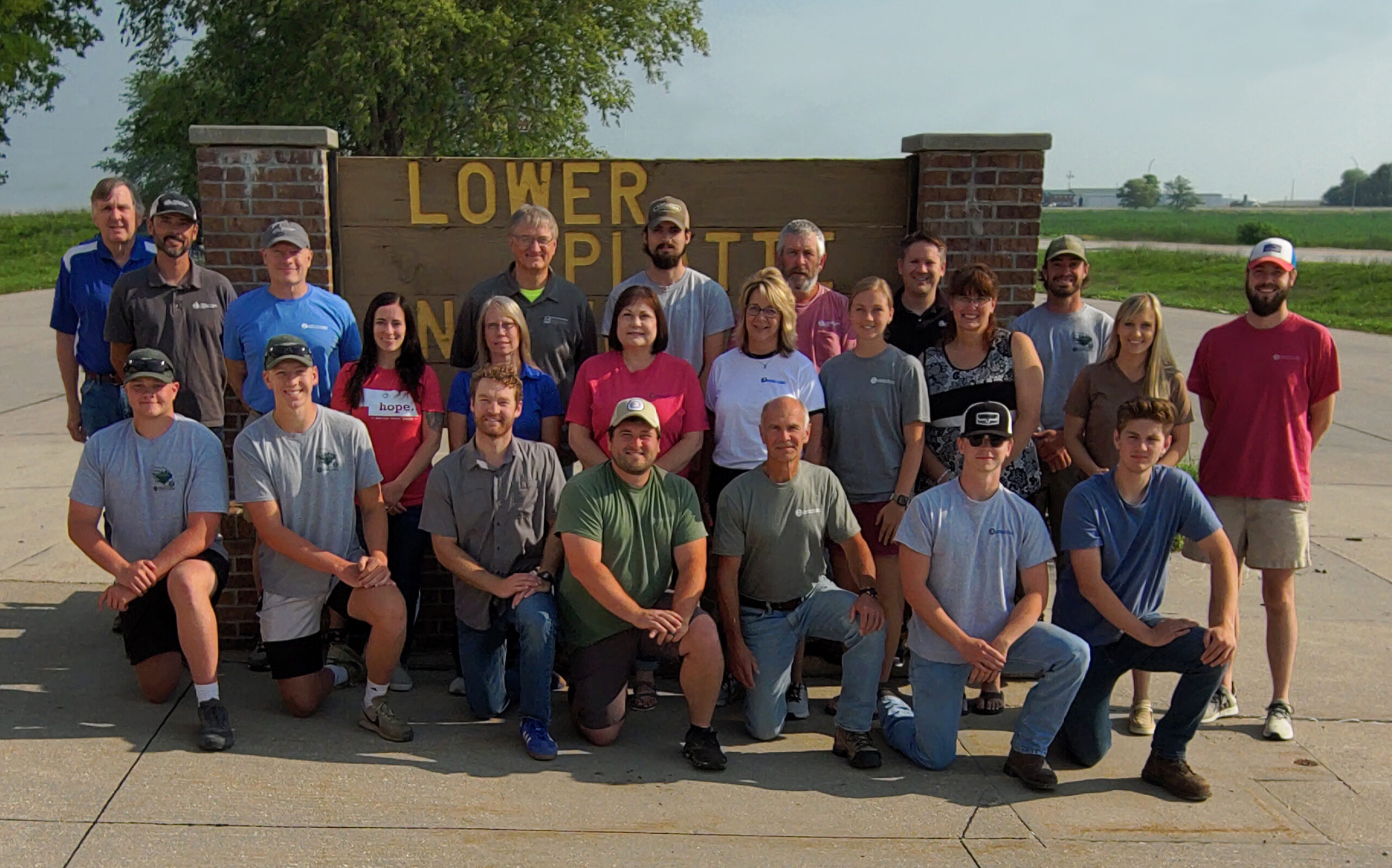 Eric Gottschalk
General Manager
egottschalk@lpnnrd.org
Overall coordination and supervision of district programs and employees
Ryan Chapman
Assistant Manager
rchapman@lpnnrd.org
Coordination and supervision of district programs and employees; special projects; grant coordination
Jill Breunig

Bookkeeping Department Head/Administrative Assistant
jbreunig@lpnnrd.org

Office management; general administration; coordination of meeting times; recording secretary for Board of Directors
Karen Rezac

 Department/Administrative Assistant
krezac@lpnnrd.org

Bookkeeping; general secretarial duties and support
Daryl Andersen
Water Resources Manager
dandersen@lpnnrd.org
Coordination and supervision of all water programs; Groundwater Management Area, water quality, water quantity, Phoenix Database Software program
Russell Oaklund

Lead Water Resources Specialist
roaklund@lpnnrd.org

Groundwater Management Area program; ground/surface water quality
Bret Schomer

Lake Wanahoo Recreation Supervisor/Water Resources Specialist
bschomer@lpnnrd.org

Coordination and supervision of facility maintenance and operations at Lake Wanahoo NRD Recreation Area; irrigated acre certification; well permits & registration; ground/surface water quality
Will Brueggemann

Water Resources Specialist
willb@lpnnrd.org

Coordination of Phoenix Database Software program; assistance in all water programs
Noah Franzen
Water Resources Technician
nfranzen@lpnnrd.org
Coordination of chemigation program; coordination of abandoned well program; ground/surface water quality
Bob Heimann
Operations & Maintenance Manager
bheimann@lpnnrd.org
Coordination and supervision of all operation & maintenance programs; forestry programs, dam maintenance, recreation facility maintenance and operations, Rock & Jetty program, large projects
Duke Dokulil
Operations & Maintenance Technician
Assistance with tree planting, dam maintenance, vehicle maintenance, office maintenance, recreation area facility maintenance
Dave Moore

Operations & Maintenance Technician
dmoore@lpnnrd.org
Assistance with tree planting, dam maintenance, vehicle maintenance, office maintenance, and recreation area facility maintenance
Dave Odvody
Recreation Facilitator
Facilities maintenance at Czechland Lake Recreation Area
Lacey Sabatka
Information Coordinator
lsabatka@lpnnrd.org
Coordination of all information programs, public relations and marketing; coordination of Clint Johannes Education Building at Lake Wanahoo
Sydney Abbott
Education Coordinator
sabbott@lpnnrd.org
Coordination of all education programs and events; community outreach; coordination of Clint Johannes Education Building at Lake Wanahoo
Sean Elliott
Projects/Rural Water Manager
selliott@lpnnrd.org
Management of LPNNRD rural water systems; coordination of land treatment programs and special projects
Drew ten Bensel
GIS/Grants Coordinator
dtenbensel@lpnnrd.org
Geographic Information System maintenance/development; custom mapping for staff/public; LPNNRD MapMaker maintenance/development; grant coordination
NRD/NRCS Conservation Technician
Adam Brockmann
NRD/NRCS Conservation Technician
adam.brockmann@ne.nacdnet.net
Completes design, layout, inspection and certification of soil and water conservation practices for Saunders and Lancaster Counties; primarily in Wahoo NRCS Field Office
NRD/NRCS Field Office Assistants