Board Meetings
Held at LPNNRD Office unless noted.
For Zoom information, please call the LPNNRD at 402-443-4675
October 10, 2022  6:00 p.m.
November 14, 2022 4:00 p.m. – Location TBD
December 12, 2022
Committee Meetings
Water
Wednesday, October 2, 2022  6:00 p.m.
at LPNNRD office
Projects
Thursday, October 3, 2022  7:30 a.m.
at LPNNRD office
Operations
Thursday, October 3, 2022  8:30 a.m.
at LPNNRD office
Executive
Thursday, October 3, 2022  10:00 a.m.
at LPNNRD office
ABOUT US
The Lower Platte North Natural Resources District covers 28 communities and approximately 1,031,000 acres of land in east-central Nebraska. The district's population is roughly 60,000, almost equally divided between urban and rural residents.
The district encompasses land that drains into a stretch of the Platte River from south of Columbus to Ashland. Approximately 70 miles of the river flow directly through or border the district. It is our mission to ensure responsible and sustainable use of the natural resources within our district's borders.
Lower Platte River Drought Monitoring
The Lower Platte South Natural Resources District (NRD), Papio-Missouri River NRD, Lower Platte North NRD, Metropolitan Utilities District (MUD), Lincoln Water System (LWS), and Nebraska Department of Natural Resources (NeDNR), collectively referred to as the Lower Platte River Consortium (Consortium), have embarked on a collaborative effort to develop a drought contingency plan for the Lower Platte River Basin in Nebraska. The focus of this first increment of the Drought Plan is to establish a framework for coordination and communication amongst Consortium members to address droughts in the Lower Platte River.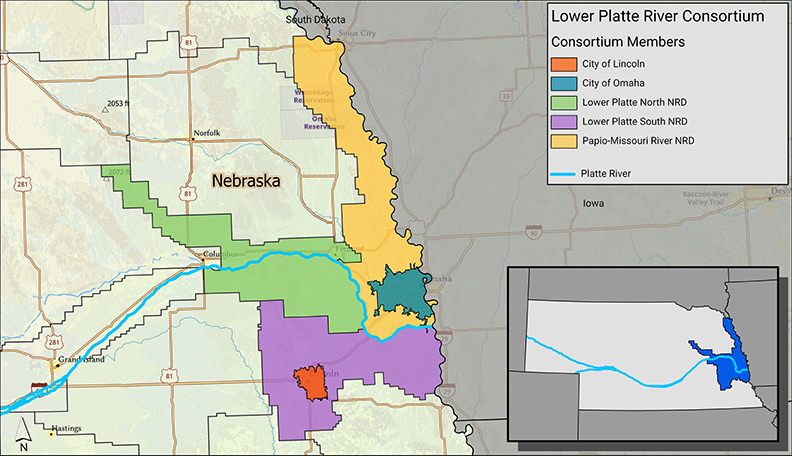 Lake Wanahoo NRD Recreation Area
Get The Newsletter
stay up to date on our latest News & Events